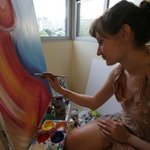 Brooke Estin
www.brookeestinart.com https://www.facebook.com/brookeestinart/
Brooke Estin is very much the product of an international upbringing. The daughter of two international school teachers spent 12 years living in Thailand, and has since lived and worked all over the world - from Bangkok to London to Kathmandu to NYC to SF and more. Since she was a child, she always had an interest in art and had her first exhibition when she was 16 years old. For the last 15+ years, Brooke has been producing and selling her work globally. As her portfolio expanded and her style matured, she had shows in the US, Europe and Asia.
Primarily inspired by the female body, scenes from growing up in Southeast Asia and the complexities of romantic relationships, Brooke uses abstract, yet familiar images in a dash of high intensity colors to emotionally engage the viewer. Many of her pieces are painted on multiple canvases or can be rotated to review new images. She likes "to switch it up" and help people to be able to continually see something new in her work and creating pieces with multiple viewing options keep it new and fresh.
Brooke continues to paint from her studio in Sevilla, Spain and is available for live painting exhibitions, custom paintings and canvas prints.
Read more
Brooke Estin's Store
Filter