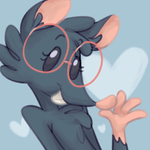 Bruna Chagas
Hello! My Name is Bruna Chagas, but many know me as my nickname Kida. I'm 19 years old brazillian living in Sao Paulo. Since I was a child I had a great passion for art. I always remember myself drawing, but I started with digital art around the age of 13.
My main inspirations are Grafitti, cartoons, Pixelart (games or not) and Animation. My work is hugely animal based, specially on the rodent side!
I hope I can use Society6 as a great opportunity to not only share but make my work better, and to meet much more amazing artists and inspirations.
Read more