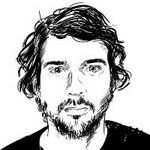 Bruno Boto
I was born in Setúbal, a portuguese city of fishermen and industrial workers, bohemians, poets, artists. I grew up between the Sado estuary, the Arrabida hills, Troia peninsula and the Alentejo white sand beaches, between the concrete, salt water and white sand. Here I lived until graduating from high school in Design, then I headed to Lisbon, where I studied Fashion Design and worked for four years. After some time I quit fashion and realized I couldn't live my days in the middle of traffic and stress ... so I made a reset !! Found Faro, a small town in Algarve surrounded by amazing nature and so I ended up installing me here, and find the famous "quality of life". Here I finish my degree in Communication Design and since than I have been working in Graphic Design, Web Design, Animation, Video, Photography, Painting, Illustration, Crafts, Furniture, Permaculture, Education, and in all what gives me the whim and interest me more( and doing)! Bruno Boto joined Society6 on July 19, 2016
More
I was born in Setúbal, a portuguese city of fishermen and industrial workers, bohemians, poets, artists. I grew up between the Sado estuary, the Arrabida hills, Troia peninsula and the Alentejo white sand beaches, between the concrete, salt water and white sand. Here I lived until graduating from high school in Design, then I headed to Lisbon, where I studied Fashion Design and worked for four years. After some time I quit fashion and realized I couldn't live my days in the middle of traffic and stress ... so I made a reset !!
Found Faro, a small town in Algarve surrounded by amazing nature and so I ended up installing me here, and find the famous "quality of life". Here I finish my degree in Communication Design and since than I have been working in Graphic Design, Web Design, Animation, Video, Photography, Painting, Illustration, Crafts, Furniture, Permaculture, Education, and in all what gives me the whim and interest me more( and doing)!
Bruno Boto joined Society6 on July 19, 2016.
Bruno Boto's Store
32 results
Filter