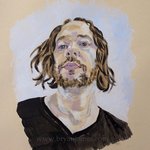 Bryan James
Artist & Illustrator based in Dublin, Ireland. I am primarily interested in the beauty and elegance of the human figure: how it is constructed, how it moves and how it interacts with its surrounding space and environment. I have a strong interest in Japanese art and culture with a particular interest in the practical aspects of Zen philosophy and how it relates to art and the creation of art. I am always attempting a simple and direct expression of the human form through my work using traditional media. I avoid using digital methods as I feel that there is too much temptation to correct mistakes and make things too perfect. In my view, it is the little mistakes that give character to an image and show the path forward. My recent work explores overlaying and combining abstract colour fields and/or collage with representational figure studies or portraits to explore the relationship between the human figure and its surrounding space. I have always been fascinated with the creation of space via overlapping planes in synthetic cubism and this work attempts to explore and develop these ideas further by incorporating more representational descriptions of the human figure. These recent works have, somehow, always been inside my head and it is only recently that I feel able to realize them physically. Website: www.bryanjames.com Facebook: https://www.facebook.com/bryanjamesart Tumblr: http://bryanjamesart.tumblr.com/ Instagram: http://instagram.com/bryanjamesart/ Youtube: http://www.youtube.com/bryanjamesart Etsy: http://www.etsy.com/shop/bryanjamesart Email: bryan@bryanjames.com Bryan James joined Society6 on May 13, 2014
More
Artist & Illustrator based in Dublin, Ireland.
I am primarily interested in the beauty and elegance of the human figure: how it is constructed, how it moves and how it interacts with its surrounding space and environment. I have a strong interest in Japanese art and culture with a particular interest in the practical aspects of Zen philosophy and how it relates to art and the creation of art. I am always attempting a simple and direct expression of the human form through my work using traditional media. I avoid using digital methods as I feel that there is too much temptation to correct mistakes and make things too perfect. In my view, it is the little mistakes that give character to an image and show the path forward.
My recent work explores overlaying and combining abstract colour fields and/or collage with representational figure studies or portraits to explore the relationship between the human figure and its surrounding space. I have always been fascinated with the creation of space via overlapping planes in synthetic cubism and this work attempts to explore and develop these ideas further by incorporating more representational descriptions of the human figure. These recent works have, somehow, always been inside my head and it is only recently that I feel able to realize them physically.
Website: www.bryanjames.com Facebook: https://www.facebook.com/bryanjamesart Tumblr: http://bryanjamesart.tumblr.com/ Instagram: http://instagram.com/bryanjamesart/ Youtube: http://www.youtube.com/bryanjamesart Etsy: http://www.etsy.com/shop/bryanjamesart Email: bryan@bryanjames.com
Bryan James joined Society6 on May 13, 2014.