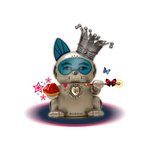 BudgieTV
I am a photographer, digital artist, graphic & web designer, wordy rhyming driveler, serial hugger, technological tinkerer, world traveler, animal lover, origami enthusiast and a fancier of fashion, music and alternative pop culture. I have a great passion for the general experience of life and for exploring that passion through my photographs, digital creations and other art. My digital artwork is created by combining and manipulating photographs, emoticons or other media into representations of the visions that can only be found within my mind's eye... Things aren't always as they seem! I hunt, collect, react, dissect, and envision! I dream... Please check out all of my artwork by visiting: http://www.budgie.tv BudgieTV joined Society6 on September 20, 2012
More
I am a photographer, digital artist, graphic & web designer, wordy rhyming driveler, serial hugger, technological tinkerer, world traveler, animal lover, origami enthusiast and a fancier of fashion, music and alternative pop culture.
I have a great passion for the general experience of life and for exploring that passion through my photographs, digital creations and other art.
My digital artwork is created by combining and manipulating photographs, emoticons or other media into representations of the visions that can only be found within my mind's eye... Things aren't always as they seem!
I hunt, collect, react, dissect, and envision! I dream...
Please check out all of my artwork by visiting: http://www.budgie.tv
BudgieTV joined Society6 on September 20, 2012.