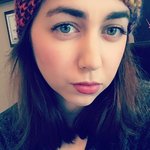 ButIFeelCelestial
Hi everyone! I'm Jess, I am 24 years old and I am primarily a painter. I am trying to get myself back into my passion despite a chronic illness which has kept me from creating. I love portraiture, and using astrological and celestial themes in my work. Recently, I have been taking commissions from coworkers creating things for their family members using chalk markers on chalkboards. I also have an Etsy shop which is linked in this profile. That shop offers original pieces of work. Prints will not be available on the Society6 shop until the original work is sold on Etsy, or unless it is exclusive to Society6 (meaning I am keeping the original). https://www.etsy.com/shop/ButIFeelCelestial ButIFeelCelestial joined Society6 on May 25, 2016
More
Hi everyone! I'm Jess, I am 24 years old and I am primarily a painter. I am trying to get myself back into my passion despite a chronic illness which has kept me from creating. I love portraiture, and using astrological and celestial themes in my work. Recently, I have been taking commissions from coworkers creating things for their family members using chalk markers on chalkboards. I also have an Etsy shop which is linked in this profile. That shop offers original pieces of work. Prints will not be available on the Society6 shop until the original work is sold on Etsy, or unless it is exclusive to Society6 (meaning I am keeping the original).
https://www.etsy.com/shop/ButIFeelCelestial
ButIFeelCelestial joined Society6 on May 25, 2016.