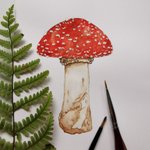 The Butterfly and Toadstool
Hi there I'm Dee. I'm an award-winning botanical jewellery designer and self-taught artist living and working on the south west of Scotland. My work is inspired by the beautiful forests that surround my home and I personally design, hand-make and paint every piece within my collection of botanical jewellery and artwork.
You can find my jewellery and accessories in a selection of boutique gift shops around the UK as well as on Etsy, and I've now just opened my Society6 shop for my new branch of nature illustrations.
You can find out more about me and my handmade business over on my website at www.thebutterflyandtoadstool.co.cuk
Shop my botanical jewellery and accessories at https://www.etsy.com/uk/shop/ButterflynToadstool
Or follow me on Social Media at http://instagram.com/butterflyandtoadstool https://www.facebook.com/butterflyandtoadstool
Contact: dee@thebutterflyandtoadstool.co.uk
Thanks for stopping by!
Dee The Butterfly and Toadstool
Read more
The Butterfly and Toadstool's Store
Filter