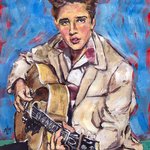 Buttons McTavish
Hello there! My name is Amy Lehr Miller, and my artist identity is "Buttons McTavish". I'm a York County, Pennsylvania artist with a BFA in Illustration from Moore College of Art & Design in Philadelphia. My passion is portraiture, and the mediums I mostly use these days are pencil or acrylic paint on both canvas and paper or cardboard. Since 2007, I have also had a wonderful experience in working with the Philadelphia artist collective, "The (no name) Art Group", donating personal portraits to children in foster homes in Boston and Uganda. I've also shown work in group exhibitions, with the proceeds going to feed the hungry in Philadelphia. Feel free to contact me about any custom artwork. I'd be glad to work with you. Buttons McTavish joined Society6 on September 13, 2013
More
Hello there! My name is Amy Lehr Miller, and my artist identity is "Buttons McTavish". I'm a York County, Pennsylvania artist with a BFA in Illustration from Moore College of Art & Design in Philadelphia. My passion is portraiture, and the mediums I mostly use these days are pencil or acrylic paint on both canvas and paper or cardboard.
Since 2007, I have also had a wonderful experience in working with the Philadelphia artist collective, "The (no name) Art Group", donating personal portraits to children in foster homes in Boston and Uganda. I've also shown work in group exhibitions, with the proceeds going to feed the hungry in Philadelphia.
Feel free to contact me about any custom artwork. I'd be glad to work with you.
Buttons McTavish joined Society6 on September 13, 2013.