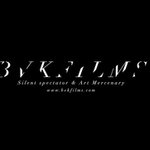 Franck "OFA" Onouviet
Franck aka "ofa" is the founder of BVKFILMS, a creative studio & production house responsible for creating cutting edge and hip films and documentary pieces.
Self-described Afropean (ties to both Africa and Europe) Franck multi-continental upbringing shapes his worldview and his perception of a story. His unconventional approach is rooted in his ability to trust his guts.
"Am a filmmaker, still or moving, all that matter to me is to make, That's my story and i'm sticking to it"
Read more
Franck "OFA" Onouviet's Store
Filter