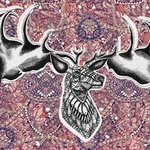 BXXIllustration
The illustrations of a creative mind in Plymouth, UK. BXX Illustration, A.K.A Bex Challoner is a illustrator based in Plymouth, UK who creates her own merchandise and specialises in Editorial, Advertisement and Commission illustration. She's known for illustrating animals and portrait images although she doesn't allow this to restrict her and would gladly take on any other challenges. Perhaps you or your company is seeking the talent of an illustrator, someone who can help you visually communicate an idea, an image or a design. If this is the case, then please get in contact my emailing Bex at bexchalloner@hotmail.co.uk. https://www.bxxillustration.com https://www.instagram.com/bxxillustration https://www.etsy.com/shop/BXXIllustration https://www.facebook.com/BXX-Illustration-190843191103109 BXXIllustration joined Society6 on March 22, 2016
More
The illustrations of a creative mind in Plymouth, UK.
BXX Illustration, A.K.A Bex Challoner is a illustrator based in Plymouth, UK who creates her own merchandise and specialises in Editorial, Advertisement and Commission illustration. She's known for illustrating animals and portrait images although she doesn't allow this to restrict her and would gladly take on any other challenges.
Perhaps you or your company is seeking the talent of an illustrator, someone who can help you visually communicate an idea, an image or a design. If this is the case, then please get in contact my emailing Bex at bexchalloner@hotmail.co.uk.
https://www.bxxillustration.com https://www.instagram.com/bxxillustration https://www.etsy.com/shop/BXXIllustration https://www.facebook.com/BXX-Illustration-190843191103109
BXXIllustration joined Society6 on March 22, 2016.