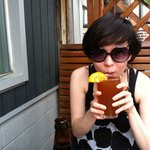 by hannah's hand
Hello everyone in the world! I practice art and design in downtown Detroit, MI. Born in Lubbock, Texas, I bounced around the world to South Korea, New Jersey, and Paris, France, before landing in Detroit. Thanks to this exposure, I have a diverse blend of cultural influences to pull from. From the time I could hold a pencil, I have always been drawing. After receiving full scholarship to attend College for Creative Studies in 2005, I headed off to Detroit to pursue my dreams. I graduated with honors in 2010 and debuted my first Illustration show soon afterwards. Equipped with my creative mind and steady drawing hand, I never fail to create whimsical and colorful illustrations that make viewers smile. I work on a range of projects such as posters, paintings, children's book illustrations, printmaking, and commissioned art works. Feel free to shoot me an e-mail at hannahkang.design@gmail.com. When I am not creating illustration prints, you can site me biking downtown Detroit on my sweet yellow vintage Schwinn, unleashing my inner child by reading mangas, and pretending to know what I'm doing on my acoustic guitar. But usually, I live and breath illustration :D by hannah's hand joined Society6 on April 16, 2012
More
Hello everyone in the world! I practice art and design in downtown Detroit, MI. Born in Lubbock, Texas, I bounced around the world to South Korea, New Jersey, and Paris, France, before landing in Detroit. Thanks to this exposure, I have a diverse blend of cultural influences to pull from. From the time I could hold a pencil, I have always been drawing.
After receiving full scholarship to attend College for Creative Studies in 2005, I headed off to Detroit to pursue my dreams. I graduated with honors in 2010 and debuted my first Illustration show soon afterwards.
Equipped with my creative mind and steady drawing hand, I never fail to create whimsical and colorful illustrations that make viewers smile.
I work on a range of projects such as posters, paintings, children's book illustrations, printmaking, and commissioned art works. Feel free to shoot me an e-mail at hannahkang.design@gmail.com.
When I am not creating illustration prints, you can site me biking downtown Detroit on my sweet yellow vintage Schwinn, unleashing my inner child by reading mangas, and pretending to know what I'm doing on my acoustic guitar. But usually, I live and breath illustration :D
by hannah's hand joined Society6 on April 16, 2012.
Canvas by by hannah's hand
9 results
Filter