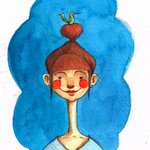 ByRominaPerez
Romina Perez was born in the beautiful city of Oaxaca, OAX. A city full of art, music, food and bright colors, which have influenced her artwork. She studied in Los Angeles, California, at "Otis College of Art and Design" where she graduated BA in Illustration. Where she loved seeing and meeting all kinds of illustrations and talented illustrators. She's again in the city of Oaxaca de Juarez, rediscovering her city and new inspirations. Romina Perez likes to tell stories illustrating themes of magical realism in moments of life, legends, myths, fantasy creatures, childhood and more. Her illustrations are done with watercolors. Get in touch with me @ Byrominaperez@gmail.com My website: www.byrominaperez.com Romina Pérez nació en la bella ciudad de Oaxaca de Juárez,OAX. Una ciudad llena de arte, música, comida y colores vivos, que le han influenciado en sus ilustraciones. Ella estudió en Los Angeles, California en "Otis College of Art and Design" donde se graduó de licenciada en Ilustración. Donde le encanto ver y conocer todo tipo de ilustraciones y talentosos ilustradores. Y otra vez se encuentra en la ciudad de Oaxaca de Juárez, redescubriendo su ciudad y con nuevas inspiraciones. A Romina Pérez le gusta contar cuentos ilustrando temas de realismo mágico en momentos de la vida, leyendas, mitos, criaturas de fantasía, la infancia y mucho más. Las ilustraciones que ella ilustra son hechas con acuarelas. Mi correo: Byrominaperez@gmail.com Mi pagina web: www.byrominaperez.com ByRominaPerez joined Society6 on October 9, 2012
More
Romina Perez was born in the beautiful city of Oaxaca, OAX. A city full of art, music, food and bright colors, which have influenced her artwork. She studied in Los Angeles, California, at "Otis College of Art and Design" where she graduated BA in Illustration. Where she loved seeing and meeting all kinds of illustrations and talented illustrators. She's again in the city of Oaxaca de Juarez, rediscovering her city and new inspirations. Romina Perez likes to tell stories illustrating themes of magical realism in moments of life, legends, myths, fantasy creatures, childhood and more. Her illustrations are done with watercolors.
Get in touch with me @ Byrominaperez@gmail.com My website: www.byrominaperez.com
Romina Pérez nació en la bella ciudad de Oaxaca de Juárez,OAX. Una ciudad llena de arte, música, comida y colores vivos, que le han influenciado en sus ilustraciones. Ella estudió en Los Angeles, California en "Otis College of Art and Design" donde se graduó de licenciada en Ilustración. Donde le encanto ver y conocer todo tipo de ilustraciones y talentosos ilustradores. Y otra vez se encuentra en la ciudad de Oaxaca de Juárez, redescubriendo su ciudad y con nuevas inspiraciones. A Romina Pérez le gusta contar cuentos ilustrando temas de realismo mágico en momentos de la vida, leyendas, mitos, criaturas de fantasía, la infancia y mucho más. Las ilustraciones que ella ilustra son hechas con acuarelas.
Mi correo: Byrominaperez@gmail.com Mi pagina web: www.byrominaperez.com
ByRominaPerez joined Society6 on October 9, 2012.
ByRominaPerez's Store
50 results
Filter