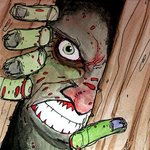 byron rempel
I've been drawing for well over 20 years but only found my voice about 3 years ago when I began drawing zombies. Since then I've drawn zombies of all kinds, from zombie cats, mushrooms and dogs, to hundreds of zombie portraits. I draw the undead because my mom didn't want me to. If you want to see more of my artwork, check www.byronjrempel.com or find me on google+ . I don't use other social networks because they take up far to much time. byron rempel joined Society6 on January 10, 2012
More
I've been drawing for well over 20 years but only found my voice about 3 years ago when I began drawing zombies. Since then I've drawn zombies of all kinds, from zombie cats, mushrooms and dogs, to hundreds of zombie portraits. I draw the undead because my mom didn't want me to.
If you want to see more of my artwork, check www.byronjrempel.com or find me on google+ . I don't use other social networks because they take up far to much time.
byron rempel joined Society6 on January 10, 2012.
Framed Prints by byron rempel
86 results
Filter