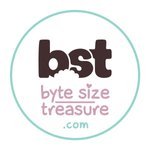 Byte Size Treasure
BYTE SIZE TREASURE is an online shop that sells unique products inspired by the sea! We aim to be your source of nautical nonsense and general cuteness! Now, we're spreading our fins and joining the Society6 community.
Our goal is to continue to offer more products and more fun characters as the years go by.
BST is owned and run by one girl – Robyn (aka Rewynd) with help from her husband. Robyn went to college for Animation, focusing on Character Design. A childhood dream of being a marine biologist has manifested itself as a full-time obsession in her adult life. After obtaining jobs as a Web Designer/Developer and as a Graphic Designer – she decided it made perfect sense to put it all together to satisfy her creative needs and to share her fun characters with the world.
Read more
Byte Size Treasure's Store
Filter