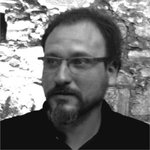 Carlos Ramirez
I am a born illustrator. Having learned how to draw on my own at an early age I discovered, when I was four years old, that I could not stop drawing. As a teenager, I took a few classes to improve my drawing techniques and an animation course to learn the basics. Then I created several comic books and experimental animations featuring my own characters. At eighteen, I started my university degree in Social Communication, specializing in Art Management. I began working in advertising agencies as an illustrator, using mostly traditional techniques (ink, pencil and paper). At that time, I did not know how to use computers. This was remedied when I learned how to work with design, illustration and painting software, including your early and old versions. I worked in several advertising agencies and design/multimedia companies until 2003, when I opened my own studio (PICTUS arte interativa), where I and my team creates content for online and offline medias. Me and my company offers services in webdesign, graphic design, illustration and 2D animation, branding, e-learning design in which (as is the case with all the projects my company does), invests a lot of our love and passion for the art. I am currently the New Business Director, where my main task is to seek opportunities where PICTUS can play your expertise. But it is still being Illustrator long ago . And I do as a hobby and the same passion as before. Braso-Panamanian, Flamengo's supporter and Julia's father. I'm a Rock & Roll fan (from classic to heavy), cartoon TV and classic movies. Carlos Ramirez joined Society6 on September 23, 2015
More
I am a born illustrator. Having learned how to draw on my own at an early age I discovered, when I was four years old, that I could not stop drawing.
As a teenager, I took a few classes to improve my drawing techniques and an animation course to learn the basics. Then I created several comic books and experimental animations featuring my own characters.
At eighteen, I started my university degree in Social Communication, specializing in Art Management. I began working in advertising agencies as an illustrator, using mostly traditional techniques (ink, pencil and paper). At that time, I did not know how to use computers. This was remedied when I learned how to work with design, illustration and painting software, including your early and old versions.
I worked in several advertising agencies and design/multimedia companies until 2003, when I opened my own studio (PICTUS arte interativa), where I and my team creates content for online and offline medias.
Me and my company offers services in webdesign, graphic design, illustration and 2D animation, branding, e-learning design in which (as is the case with all the projects my company does), invests a lot of our love and passion for the art.
I am currently the New Business Director, where my main task is to seek opportunities where PICTUS can play your expertise.
But it is still being Illustrator long ago . And I do as a hobby and the same passion as before.
Braso-Panamanian, Flamengo's supporter and Julia's father.
I'm a Rock & Roll fan (from classic to heavy), cartoon TV and classic movies.
Carlos Ramirez joined Society6 on September 23, 2015.