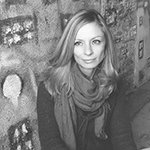 cafelab
I started my career as an architect, then became a photographer and an artist. I have always been attracted by the organic shapes and colors of the stones such as agate, amethyst, crystal and marble. I love to photograph and collect these pieces, capturing their beauty through my work and adding graphic details to make them shine. Follow us on: http://www.cafelab.eu http://instagram.com/cafelab_store https://www.facebook.com/cafelab cafelab joined Society6 on November 23, 2013
More
I started my career as an architect, then became a photographer and an artist. I have always been attracted by the organic shapes and colors of the stones such as agate, amethyst, crystal and marble. I love to photograph and collect these pieces, capturing their beauty through my work and adding graphic details to make them shine.
Follow us on:
http://www.cafelab.eu http://instagram.com/cafelab_store https://www.facebook.com/cafelab
cafelab joined Society6 on November 23, 2013.
Prints by cafelab
785 results
Filter