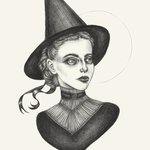 Caitlin McCarthy
I find beauty in the odd and unusual. I have a taste for the macabre and am currently inspired by the occult, dark romanticism, spiritualism, fairytales, and oddities of all sorts. Please feel free to contact me at caitlinmccarthyartinfo@gmail.com. Etsy: https://www.etsy.com/shop/CaitlinMcCarthyArt Tumblr: http://caitlinlouiseart.tumblr.com Pinterest: http://pinterest.com/caitlinlouise Instagram: caitlinmccarthyart Facebook: https://www.facebook.com/caitlinmccarthyart Caitlin McCarthy joined Society6 on May 18, 2012
More
I find beauty in the odd and unusual. I have a taste for the macabre and am currently inspired by the occult, dark romanticism, spiritualism, fairytales, and oddities of all sorts.
Please feel free to contact me at caitlinmccarthyartinfo@gmail.com.
Etsy: https://www.etsy.com/shop/CaitlinMcCarthyArt Tumblr: http://caitlinlouiseart.tumblr.com Pinterest: http://pinterest.com/caitlinlouise Instagram: caitlinmccarthyart Facebook: https://www.facebook.com/caitlinmccarthyart
Caitlin McCarthy joined Society6 on May 18, 2012.