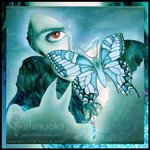 CalaNooka
I make art that's incredibly autobiographical, but I prefer to use symbolism and metaphorical imagery rather than being too literal. I feel that it's important to preserve a sense of mystery in my visual communication, and to leave the perceived meaning of each piece as open to interpretation as possible so that people can identify with my work for reasons personal to themselves. My full online portfolio: is here - http://www.calanooka.com/index.html - but the best place to catch me is my facebook fan page - https://www.facebook.com/CalaNookaArt - where people who "like" me get regular updates and occasional prizes :) CalaNooka joined Society6 on August 4, 2010
More
I make art that's incredibly autobiographical, but I prefer to use symbolism and metaphorical imagery rather than being too literal. I feel that it's important to preserve a sense of mystery in my visual communication, and to leave the perceived meaning of each piece as open to interpretation as possible so that people can identify with my work for reasons personal to themselves.
My full online portfolio: is here - http://www.calanooka.com/index.html - but the best place to catch me is my facebook fan page - https://www.facebook.com/CalaNookaArt - where people who "like" me get regular updates and occasional prizes :)
CalaNooka joined Society6 on August 4, 2010.
CalaNooka's Store
55 results
Filter