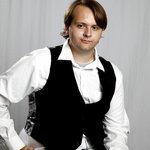 CallibCarver
I love photographing people more than anything else, and that is part of why I became a photojournalist as well as a portrait photographer. But I have been working on more fine art pieces over the past year that I hope people like just as much as my portraits. I am currently living near St. Louis, Missouri and run C. Carver Studios. You can visit my studio site at http://www.ccarverstudios.com/ and see more of my work at http://500px.com/CallibCarver You can find me on twitter, @CallibCarver, or on Google+, https://plus.google.com/107417217272496697912/posts. CallibCarver joined Society6 on May 18, 2013
More
I love photographing people more than anything else, and that is part of why I became a photojournalist as well as a portrait photographer. But I have been working on more fine art pieces over the past year that I hope people like just as much as my portraits.
I am currently living near St. Louis, Missouri and run C. Carver Studios. You can visit my studio site at http://www.ccarverstudios.com/ and see more of my work at http://500px.com/CallibCarver
You can find me on twitter, @CallibCarver, or on Google+, https://plus.google.com/107417217272496697912/posts.
CallibCarver joined Society6 on May 18, 2013.