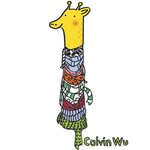 Calvin Wu
1. Hello there! On these pages you will find my illustration work, along with sketches, doodles, personal work. I hope you will enjoy browsing through them or become a proud owner. 2. Some information on the artist Calvin was born in Taiwan somewhere the people are nice & kind. Where he spent his formative years drawing, reading and swimming a lot. All activities he still regularly practices. He graduating from the department of visual communication design in 2010. If you want to contact me for further information, please do! The quickest way to reach me is through email Website: www.calvinwu.com Tumblr: http://calvinwu.tumblr.com/ Twitter: http://twitter.com/#!/calvin465 Threadless: http://www.threadless.com/profile/1709295/Calvin_Wu Facebook: https://www.facebook.com/CalvinWu.Illustration Email: calvin465@gmail.com Calvin Wu joined Society6 on August 26, 2011
More
Hello there! On these pages you will find my illustration work, along with sketches, doodles, personal work. I hope you will enjoy browsing through them or become a proud owner.

Some information on the artist Calvin was born in Taiwan somewhere the people are nice & kind. Where he spent his formative years drawing, reading and swimming a lot. All activities he still regularly practices. He graduating from the department of visual communication design in 2010.
If you want to contact me for further information, please do! The quickest way to reach me is through email
Website: www.calvinwu.com Tumblr: http://calvinwu.tumblr.com/ Twitter: http://twitter.com/#!/calvin465 Threadless: http://www.threadless.com/profile/1709295/Calvin_Wu Facebook: https://www.facebook.com/CalvinWu.Illustration Email: calvin465@gmail.com
Calvin Wu joined Society6 on August 26, 2011.