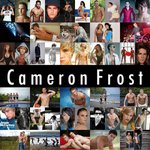 Cameron Frost
Cameron Frost has been working professionally as a photographer for over 10 years. He started his career in Los Angeles at the age of 19 and soon found himself photographing models, actors and celebrities in New York, San Francisco, Las Vegas, Costa Rica, London and Copenhagen. Over the years his client list has included: Jesse McCartney, Paris Hilton, Hollywood Records, MTV, Disney and Warner Brothers, among others. He has published 3 books and 4 calendars, and his work has been featured in magazines such as DNA, Popstar, DU&ICH, Instinct, Elle and People. You can also find his photography in several collections by leading male contemporary photography publisher, Bruno Gmunder. Cameron has also worked on the other side of the lens as a model and collaborated with several exceptionally talented artists: Greg Gorman, Howard Roffman, Richard Reinsdorf, Kai Feng and Bradford Rogne. Much of his influence came from these artists, as well as Richard Avedon, Mike Ruiz, George Hurrell, Helmut Newton, David La Chapelle and Mert & Marcus. Through his photography, Cameron has helped raise money for several charities, including the Trevor Project, Human Rights Campaign and GLASS by donating framed prints and photo shoots for auction. He also created a birthday fundraiser for PetSmart Charities, asking for donations in lieu of personal gifts. Cameron currently resides in Las Vegas with his French Bulldog, Milo. Cameron Frost joined Society6 on October 10, 2013
More
Cameron Frost has been working professionally as a photographer for over 10 years. He started his career in Los Angeles at the age of 19 and soon found himself photographing models, actors and celebrities in New York, San Francisco, Las Vegas, Costa Rica, London and Copenhagen. Over the years his client list has included: Jesse McCartney, Paris Hilton, Hollywood Records, MTV, Disney and Warner Brothers, among others. He has published 3 books and 4 calendars, and his work has been featured in magazines such as DNA, Popstar, DU&ICH, Instinct, Elle and People. You can also find his photography in several collections by leading male contemporary photography publisher, Bruno Gmunder. Cameron has also worked on the other side of the lens as a model and collaborated with several exceptionally talented artists: Greg Gorman, Howard Roffman, Richard Reinsdorf, Kai Feng and Bradford Rogne. Much of his influence came from these artists, as well as Richard Avedon, Mike Ruiz, George Hurrell, Helmut Newton, David La Chapelle and Mert & Marcus.
Through his photography, Cameron has helped raise money for several charities, including the Trevor Project, Human Rights Campaign and GLASS by donating framed prints and photo shoots for auction. He also created a birthday fundraiser for PetSmart Charities, asking for donations in lieu of personal gifts.
Cameron currently resides in Las Vegas with his French Bulldog, Milo.
Cameron Frost joined Society6 on October 10, 2013.