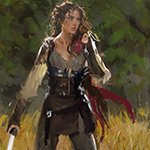 Camila Vielmond
Hello! I'm a freelance concept artist and illustrator specializing in fantasy art. When not creating art for books or concepts for games I work on my posters collection and other obscure projects. Visit my other sites to find out more about me and my work, and feel free to contact me about anything on your mind. Portfolio - http://vielmond.com.br/ DeviantART - http://vielmond.deviantart.com/ Tumblr - http://vielmond.tumblr.com/ Facebook - https://www.facebook.com/CamilaVielmond Camila Vielmond joined Society6 on November 4, 2013
More
Hello! I'm a freelance concept artist and illustrator specializing in fantasy art. When not creating art for books or concepts for games I work on my posters collection and other obscure projects.
Visit my other sites to find out more about me and my work, and feel free to contact me about anything on your mind.
Portfolio - http://vielmond.com.br/ DeviantART - http://vielmond.deviantart.com/ Tumblr - http://vielmond.tumblr.com/ Facebook - https://www.facebook.com/CamilaVielmond
Camila Vielmond joined Society6 on November 4, 2013.