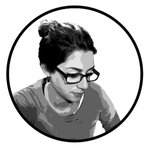 Camille Gilbert
My name is Camille Gilbert and I do art, however that happens. That can include, but is not limited to photography, typography, pen drawings, videography, doodling in margins, journaling, playing with angles, learning new languages and mixing their letters, drinking honey lattes, playing the mandolin, loving people, loving God, and just trying to make this world a little better. http://www.camillecullinan.com/ Camille Gilbert joined Society6 on February 2, 2013
More
My name is Camille Gilbert and I do art, however that happens. That can include, but is not limited to photography, typography, pen drawings, videography, doodling in margins, journaling, playing with angles, learning new languages and mixing their letters, drinking honey lattes, playing the mandolin, loving people, loving God, and just trying to make this world a little better.
http://www.camillecullinan.com/
Camille Gilbert joined Society6 on February 2, 2013.