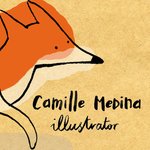 Camille Medina
Camille Medina is a French illustrator based in the UK. From a very young age she developed a passion for good stories, drawing, and for making all sorts of things, which she later turned into a job. Nowadays Camille shares her world full of cute, quirky and sometimes weird characters through illustrations that aim to make people happy. Camille Medina joined Society6 on October 24, 2016
More
Camille Medina is a French illustrator based in the UK.
From a very young age she developed a passion for good stories, drawing, and for making all sorts of things, which she later turned into a job.
Nowadays Camille shares her world full of cute, quirky and sometimes weird characters through illustrations that aim to make people happy.
Camille Medina joined Society6 on October 24, 2016.
Camille Medina's Store
6 results
Filter