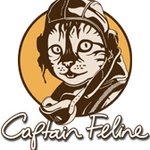 Captain Feline
Captain Feline basically blends pop culture with cats. The inspiration for each illustration simply comes from our love of both cats and pop culture. Any cat owner is aware of the human traits cats display…or maybe we display cat traits….? Whatever – the point is, the anthropomorphism is something we find amusing, and hopefully other people do too. http://www.captainfeline.com Captain Feline joined Society6 on September 10, 2013
More
Captain Feline basically blends pop culture with cats.
The inspiration for each illustration simply comes from our love of both cats and pop culture. Any cat owner is aware of the human traits cats display…or maybe we display cat traits….? Whatever – the point is, the anthropomorphism is something we find amusing, and hopefully other people do too.
http://www.captainfeline.com
Captain Feline joined Society6 on September 10, 2013.
Captain Feline's Store
64 results
Filter