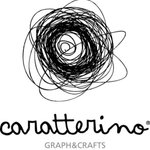 caratterino.com
I MAKE STUFF. I MEET PEOPLE. Quote from italian movie "Ecce Bombo", 1978 Stuff: messages, labels, papercrafts, posters, wedding and events stationery, bookbinding, utilities, diy. People: invisible superheroes, storytellers, paranoid androids, fluo poltergeists.
If you are interested in one or more of these things, please feel free to contact me. Thanks for visiting me.
Ara | caratterino.com
Read more
caratterino.com's Store
Filter
You are currently on society6.com.