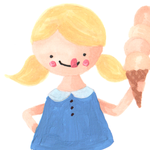 Carla Hackett
Carla is a illustrator and letterer from Melbourne, Australia. She creates quirky and cute drawings of poodles eating ice cream and dogs pooping. Her side project is Deutsch Doodles where she illustrates funny German words. The whole set can be seen here: http://deutschdoodles.carlahackett.com/ Follow her on twitter: https://twitter.com/canarycarla Carla Hackett joined Society6 on November 7, 2012
More
Carla is a illustrator and letterer from Melbourne, Australia. She creates quirky and cute drawings of poodles eating ice cream and dogs pooping.
Her side project is Deutsch Doodles where she illustrates funny German words. The whole set can be seen here: http://deutschdoodles.carlahackett.com/
Follow her on twitter: https://twitter.com/canarycarla
Carla Hackett joined Society6 on November 7, 2012.