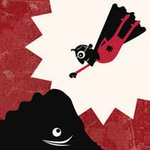 Carlos Araujo
Carlos Araujo is an illustrator currently based in Brazil. After years successfully working as a graphic designer, he decided to focus his career on illustration...
...And since then wonderful things happened...!
Today you can find his illustrations in books, magazines, toys, art shows, posters and other products worldwide.
His illustration style uses silhouettes and high contrasted figures with a modern and whimsical approach. A lot of his illustrations look like a scene captured from an animated movie like they are a part of a larger story or from the same builded world. And instead of saying "style" he prefers the technical term "my way".
Carlos Araujo's artwork was selected to be part of American Illustration, Creative Quarterly, 3x3 Pro Show. In 2008 his portfolio was featured in the pages of Ilustrar Magazine, the most important publication about illustration in Brazil. His work was deemed "Fresh" by Communication Arts in 2010. Two years later, Carlos Araujo was one of the 12 illustrators invited to represent Brazilian illustration at "Impredecible Gráfica Brasileña" art show, in Bogota, Colombia. He was also included - twice - in the Luerzer's Special 200 Best Illustrators Worldwide.
In 2013 Carlos Araujo's work was spotlighted in the 3x3 Magazine, the leading magazine in contemporary illustration. Also in the same year, his work was selected into the Latin American Ilustración 2 collection representing the best images from Latin America.
Read more
Framed Prints by Carlos Araujo
Filter