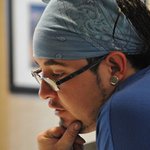 Carlos Martinez
Carlos Fernando Martinez is in every part a product of growing up in the Sangre de Cristos. Carlos's connection to this remote high country of the Rio Culebra valley and its many Hispanic villages shows up continuously in his many eclectic paintings. Whether it's oil painting of his sacred ancestral land, it's vast deep sky's, or his love of family and the monthly activities on the farm, he has always visited these influences of his respect of South Western culture and traditions. Carlos Martinez is never afraid to be honest about what he loves and cherishes in his paintings. Canvases that represent his love of the earth and all natural things are just as important as his love of friends, family and the celebration of life. His paintings have brought Carlos much deserved acclaim and numerous commissions in oil within the San Luis Valley as well as the Colorado Front Range. Recently Carlos has been exploring the world of air brush, and has been developing a large body of work portraying his deep connection to Native American pride and practice. You can find my website at http://www.cfmartinez.com/ Carlos Martinez joined Society6 on May 7, 2013
More
Carlos Fernando Martinez is in every part a product of growing up in the Sangre de Cristos. Carlos's connection to this remote high country of the Rio Culebra valley and its many Hispanic villages shows up continuously in his many eclectic paintings. Whether it's oil painting of his sacred ancestral land, it's vast deep sky's, or his love of family and the monthly activities on the farm, he has always visited these influences of his respect of South Western culture and traditions.
Carlos Martinez is never afraid to be honest about what he loves and cherishes in his paintings. Canvases that represent his love of the earth and all natural things are just as important as his love of friends, family and the celebration of life. His paintings have brought Carlos much deserved acclaim and numerous commissions in oil within the San Luis Valley as well as the Colorado Front Range. Recently Carlos has been exploring the world of air brush, and has been developing a large body of work portraying his deep connection to Native American pride and practice. You can find my website at http://www.cfmartinez.com/
Carlos Martinez joined Society6 on May 7, 2013.
Carlos Martinez's Store
35 results
Filter