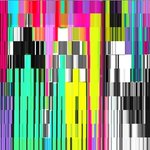 C A R L Y E L L I S
British designer Carly Ellis graduated from the prestigious University of Westminster in 2010 to embark on an unstoppable journey of success. Her graduate collection, entitled "BOOM!" received wide spread critical acclaim and featured in many publications such as Vogue Online, Vogue Italia, Super Super Magazine and The Mail on Sunday, to name but a few. Carly's signature hooded leotard was shot by photographer Rankin, and featured as the promotional image for Graduate Fashion Week 2010.
Hilary Alexander, of the Telegraph predicted Carly's success, commenting;
"Carly Ellis, of Westminster University, hit a niche with her collection of 'evening-inspired sportswear', all of which actually glows under UV light."
This acclaim awarded Carly with a highly sought after place on the Parson's MA in Fashion Design and Society, New York. Not only did she manage to secure a place on the program, Diane Von Furstenberg sponsored her tuition.
Upon moving to America, Carly has dressed and styled singer Rye Rye for her nationwide tour, her album artwork and music video "Party in the U.S.A".
During her MFA studies, Carly still had her finger on the pulse of the fashion industry, working on commissioned pieces for UpStyler Magazine, SuperSuper Magazine and Candy Boutique in Tokyo.
After graduating from Parsons, Carly's newest collection, "That Moment Before it All Makes Sense" was previewed as part of the MFA Fashion Design exhibition. The collection was then shown in full during New York Fashion Week, at Milk Studios, and received critical acclaim from publications such as Style.com, Le Monde Paris, Womens Wear Daily and featured on the front cover of the New York Times, three times. Carly's triumphs so far can be attributed to her positive and humorous approach to fashion design, which resonates in mind blowing digital prints manifested in luxurious street wear styles.
www.carlyellis.com
Read more
C A R L Y E L L I S's Store
Filter