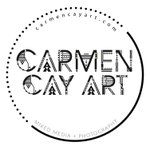 CarmenCayArt
Abstract artist attracted to order. My inspiration comes from: geometrical shapes, shadows, lines, repetition, patterns, numbers and nature.
I resonate with abstract expressionism and the theme of "contrasts" permeates throughout work. I also find inspiration from visits to art galleries, studios and museums in New York, specifically the Living Museum in Queens.
My talents are obsessing over the details and finding good parking.
Read more