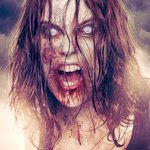 Carolina Bensler
Carolina Bensler (born August 14, 1987 in Barcelona) is an illustrator and book cover artist, specialized in Fantasy genre. She finished her Advanced Vocational Training in Illustration in 2010. In 2011 her work was selected for Exotique 7, a compilation of the best digital artwork published by Ballistic Publishing. In 2013 she specializes as a book cover artist and, since then, she has worked for many publishers and clients from Spain, Canada, USA, UK, Australia, Mexico and Argentina. Carolina Bensler joined Society6 on February 5, 2015
More
Carolina Bensler (born August 14, 1987 in Barcelona) is an illustrator and book cover artist, specialized in Fantasy genre.
She finished her Advanced Vocational Training in Illustration in 2010. In 2011 her work was selected for Exotique 7, a compilation of the best digital artwork published by Ballistic Publishing. In 2013 she specializes as a book cover artist and, since then, she has worked for many publishers and clients from Spain, Canada, USA, UK, Australia, Mexico and Argentina.
Carolina Bensler joined Society6 on February 5, 2015.