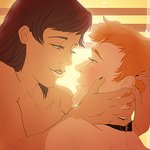 Caroline O'Grady
Caroline O'Grady creates work that is both salacious and sweet. She enjoys producing images for any and all who would enjoy erotic, energetic and socially conscious work with a flare for the indulgent and a fondness for the cute. This includes but is not limited to erotic illustration, classy (and sassy) smut, book cover illustrations, character portraits and political posters. Caroline's work exists in the intersection between figurative stylization and graphic symbolism with a focus on atmosphere and mood. Challenging the social norms that govern sexuality and celebrating progressive expressions of eroticism are her modus operandi, and she aspires to create work for alternative culture publications, erotic web collectives and, one day, a saucy webcomic. While Caroline does a great deal of digital work, she maintains a firm grasp of traditional materials and techniques including watercolors and screen sprinting. Caroline O'Grady lives in Portland, Oregon where the rain and a plethora of likeminded 'weirdos' fuel her artistic passion. She has just acquired a BFA at the Pacific Northwest College of Art. You can view more of her art at CarolineOGrady.com Caroline O'Grady joined Society6 on May 23, 2013
More
Caroline O'Grady creates work that is both salacious and sweet. She enjoys producing images for any and all who would enjoy erotic, energetic and socially conscious work with a flare for the indulgent and a fondness for the cute. This includes but is not limited to erotic illustration, classy (and sassy) smut, book cover illustrations, character portraits and political posters.
Caroline's work exists in the intersection between figurative stylization and graphic symbolism with a focus on atmosphere and mood. Challenging the social norms that govern sexuality and celebrating progressive expressions of eroticism are her modus operandi, and she aspires to create work for alternative culture publications, erotic web collectives and, one day, a saucy webcomic. While Caroline does a great deal of digital work, she maintains a firm grasp of traditional materials and techniques including watercolors and screen sprinting.
Caroline O'Grady lives in Portland, Oregon where the rain and a plethora of likeminded 'weirdos' fuel her artistic passion. She has just acquired a BFA at the Pacific Northwest College of Art. You can view more of her art at CarolineOGrady.com
Caroline O'Grady joined Society6 on May 23, 2013.