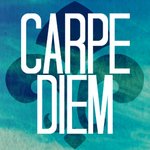 Carpe Diem
We're all about taking advantage of this amazing thing we call life. By committing to learn and improve your life, really amazing things will happen. You have the power to change yourself and the world around you, one day at a time. The revolution is now. Seize the day. www.carpediemrevolution.com Carpe Diem joined Society6 on May 28, 2014
More
We're all about taking advantage of this amazing thing we call life. By committing to learn and improve your life, really amazing things will happen. You have the power to change yourself and the world around you, one day at a time.
The revolution is now.
Seize the day.
www.carpediemrevolution.com
Carpe Diem joined Society6 on May 28, 2014.
Carpe Diem's Store
13 results
Filter