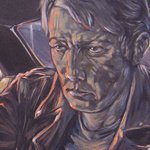 Casey Diebold
Casey Diebold was born in Chicago in 1980, and has been living in Brooklyn since 2004.
He draws a lot of inspiration from the head-turning art and lifestyles of the mid-20th century: the cars, the music, the well-dressed, the incredibly talented and often-overlooked illustrators and cinematographers; mixed in with the benefits of living in a modern age when we can call up, and mish-and-mash any piece of the last century as we please, when we please. Add in a sprinkling of fascination with future dystopian-culture science fiction like 'Logan's Run', or fictional gang movies like 'the Warriors', and then we almost see a complete picture of the guy. But not until we gaudily and proudly add a Chicago Bears pennant atop the heap.
He has done storyboards for a variety of television commercials including NBA, Virgin Mobile, Rexona, and Nair.
Casey graduated with a Bachelors Degree in Illustration from Pratt Institute in 2007, and is currently based in Brooklyn, NY.
Read more
Casey Diebold's Store
50 results
Filter