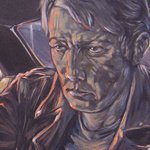 Casey Diebold
Casey Diebold is an Austin-based painter and designer whose love of classic cars and motorcycles has led him to create cinematic, pulp-inspired paintings of a fictitious past full of danger, whimsy, and reckless abandon. He's storyboarded TV commercials nationally and internationally, and is currently freelancing as a digital designer and illustrator.
Read more
Casey Diebold's Store
Filter
You are currently on society6.com.