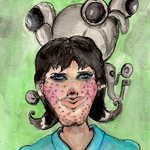 bees
Bonjour, Ya'll. If you clicked this to determine why my picture is of a bloody barbie, it's one of my passions. I make barbie murder globes, and the blood tends to not dry properly. Anyway. I'm not a freak, just a bit... I am super happy to announce that as of hopefully the end of 2013 I will have a new tablet and be able to actually do hand drawn digital work rather than by mouse. Stay tuned, my friends! bees joined Society6 on April 22, 2012
More
Bonjour, Ya'll.
If you clicked this to determine why my picture is of a bloody barbie, it's one of my passions. I make barbie murder globes, and the blood tends to not dry properly. Anyway. I'm not a freak, just a bit...
I am super happy to announce that as of hopefully the end of 2013 I will have a new tablet and be able to actually do hand drawn digital work rather than by mouse. Stay tuned, my friends!
bees joined Society6 on April 22, 2012.