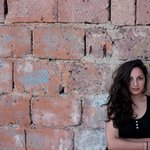 Cassandra Tavukciyan
Cassandra Tavukciyan is a 20 year old photographer from Vancouver Canada, currently living and studying in Edinburgh. The information that characterizes Cassandra's work are "analog photography, the body, femininity, nature, the sea, light". This may seem simplistic to some of us but we quickly realize that each of these words, these messages can be found in each of her shots. Cassandra shoots analog, creating portraits and still life photographs, that depict a sense of subtle sensuality and intimacy. www.cassandratavukciyan.com www.cassandratavukciyan.tumblr.com www.cassandratavukciyan2013.tumblr.com Cassandra Tavukciyan joined Society6 on April 10, 2013
More
Cassandra Tavukciyan is a 20 year old photographer from Vancouver Canada, currently living and studying in Edinburgh. The information that characterizes Cassandra's work are "analog photography, the body, femininity, nature, the sea, light". This may seem simplistic to some of us but we quickly realize that each of these words, these messages can be found in each of her shots. Cassandra shoots analog, creating portraits and still life photographs, that depict a sense of subtle sensuality and intimacy.
www.cassandratavukciyan.com www.cassandratavukciyan.tumblr.com www.cassandratavukciyan2013.tumblr.com
Cassandra Tavukciyan joined Society6 on April 10, 2013.