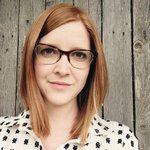 Cassie Marie Edwards
Cassie is an Artist and Educator living and making work in Wisconsin. Her studio resembles the Island of the Misfit Toys, and she spends her days painting portraits of tiny figurines with big personality. You can check out more of her work here: www.cassiemarie.com And if you want to see the process from start to finish, check out her blog: www.cassiemarieedwards.blogspot.com Cassie Marie Edwards joined Society6 on December 4, 2015
More
Cassie is an Artist and Educator living and making work in Wisconsin. Her studio resembles the Island of the Misfit Toys, and she spends her days painting portraits of tiny figurines with big personality.
You can check out more of her work here: www.cassiemarie.com
And if you want to see the process from start to finish, check out her blog: www.cassiemarieedwards.blogspot.com
Cassie Marie Edwards joined Society6 on December 4, 2015.
Cassie Marie Edwards's Store
27 results
Filter