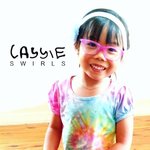 CassieSwirls
Cassie is 5 years old. She loves going to the beach, elephants, eyeballs, fairies and painting.
She took an interest to painting early on, using old canvases and bringing new life to them.
On canvas she uses acrylic paint and manipulates it with a fork or a skewer, and then adds a touch of glitter (toddlers and glitter… need I say more?). We think they look like galaxies.
Cassie has featured on international online sites such as Bored Panda, Hungarian magazine Femina, Design You Trust, Kyrgyzkorm from Kyrgyzstan; local media and her art has been actioned to raise money for international charities.
Read more
CassieSwirls's Store
Filter