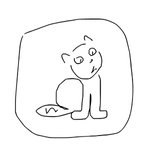 Ron thinks
Ron is a cat who likes to think. You can follow Ron on Instagram - then you might enjoy buying a card or a shirt with Ron. Ron on Instagram> http://instagram.com/ron_thinks If you want a design with the thought that is not listed here on Society6, just write Ron on his blog! Ron thinks joined Society6 on March 30, 2014
More
Ron is a cat who likes to think. You can follow Ron on Instagram - then you might enjoy buying a card or a shirt with Ron.
Ron on Instagram> http://instagram.com/ron_thinks
If you want a design with the thought that is not listed here on Society6, just write Ron on his blog!
Ron thinks joined Society6 on March 30, 2014.