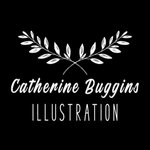 Catherine Buggins
Illustrator/Designer. I mainly specialise in black and white artwork inspired by my love of nature. I also love creating minimal, geometric designs with metallic and textured effects. All of my artwork is hand drawn then digitally refined. To see more of my work follow me on Instagram: @f0restdweller / @artisan_cat For commissions/enquiries please contact me via email: clbuggins@hotmail.co.uk Catherine Buggins joined Society6 on March 18, 2015
More
Illustrator/Designer. I mainly specialise in black and white artwork inspired by my love of nature. I also love creating minimal, geometric designs with metallic and textured effects. All of my artwork is hand drawn then digitally refined.
To see more of my work follow me on Instagram: @f0restdweller / @artisan_cat
For commissions/enquiries please contact me via email: clbuggins@hotmail.co.uk
Catherine Buggins joined Society6 on March 18, 2015.