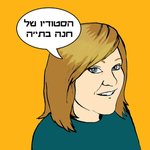 SUNSHINE PRODUCTIONS
Chana Batiya is my name - artist, designer and illustrator. A very good friend of mine calls me Sunshine. She says that there is a sort of shining quality to my character. Hope to shine the light throughout everything good that i create and share it with you, lovely people, too. SUNSHINE PRODUCTIONS joined Society6 on July 5, 2015
More
Chana Batiya is my name - artist, designer and illustrator.
A very good friend of mine calls me Sunshine.
She says that there is a sort of shining quality to my character.
Hope to shine the light throughout everything good that i create and share it with you, lovely people, too.
SUNSHINE PRODUCTIONS joined Society6 on July 5, 2015.