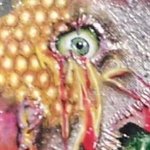 cdeeryart
Cyndi's colorful and fantastical drawings and paintings always have a little bit of fun, surrealism or downright creepiness to them! Occasionally, she'll throw a traditional piece in the mix just to keep herself (and you!) on her toes. No, not you on her toes... dang it... lol... nevermind. You are sure to find yourself reacting to her unique style and sensibilities. Have fun looking around her stuff and thanks so much for stopping by! Oh, if you have something that you would like drawn Cyndi Style, let me know and I'll be glad to give it a go! https://www.facebook.com/pages/Cdeeryart/155957921127053?ref=hl cdeeryart joined Society6 on July 7, 2014
More
Cyndi's colorful and fantastical drawings and paintings always have a little bit of fun, surrealism or downright creepiness to them! Occasionally, she'll throw a traditional piece in the mix just to keep herself (and you!) on her toes. No, not you on her toes... dang it... lol... nevermind. You are sure to find yourself reacting to her unique style and sensibilities. Have fun looking around her stuff and thanks so much for stopping by!
Oh, if you have something that you would like drawn Cyndi Style, let me know and I'll be glad to give it a go! https://www.facebook.com/pages/Cdeeryart/155957921127053?ref=hl
cdeeryart joined Society6 on July 7, 2014.