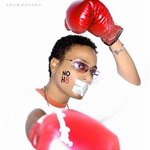 C.D. Kirven
I'm an artist, activist, author, comic book creator & filmmaker that believes art is an evolving form of social consciousness. I also believe you should live your truth & become the good you want to see in the world. I hope to capture a new "Urban Renaissance" through the eyes of a Black lesbian activist in pursuit of full equality. http://cdkirven.blogspot.com or www.facebook.com/chastitykirven or www.getequalnow.org C.D. Kirven joined Society6 on October 15, 2011
More
I'm an artist, activist, author, comic book creator & filmmaker that believes art is an evolving form of social consciousness. I also believe you should live your truth & become the good you want to see in the world. I hope to capture a new "Urban Renaissance" through the eyes of a Black lesbian activist in pursuit of full equality.
http://cdkirven.blogspot.com or www.facebook.com/chastitykirven or
www.getequalnow.org
C.D. Kirven joined Society6 on October 15, 2011.
C.D. Kirven's Store
88 results
Filter