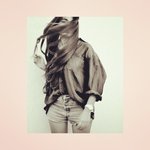 Cecilia Ferraro
Cecilia is a gentle, quirky and passionate visual artist and print pattern design born in Buenos Aires, Argentina, 1986. Lives and works in London, UK. She has painted ever since she was a child. Her work focuses on the observation of the nature, the origins of life and the realization of the impermanence and uncertainty of existence. By utilizing these subjects she attempts to inspire the viewer into realignment with themselves and their surroundings. She also explores the tension generated between the physical description of reality and fictional descriptions that involve the imaginative or even hallucinatory faculties. She wants to inhabit these contradictions, encounter their edges and discover what lies underneath the surface, highlighting the invisible links that maintains universal connections. Her methodology, then, consists of a play between the created world and her own subjectivity by a process that is intuitive and spontaneous. www.ceciliaferraro.com www.facebook.com/ceciferraroart Cecilia Ferraro joined Society6 on January 13, 2015
More
Cecilia is a gentle, quirky and passionate visual artist and print pattern design born in Buenos Aires, Argentina, 1986. Lives and works in London, UK. She has painted ever since she was a child. Her work focuses on the observation of the nature, the origins of life and the realization of the impermanence and uncertainty of existence. By utilizing these subjects she attempts to inspire the viewer into realignment with themselves and their surroundings. She also explores the tension generated between the physical description of reality and fictional descriptions that involve the imaginative or even hallucinatory faculties. She wants to inhabit these contradictions, encounter their edges and discover what lies underneath the surface, highlighting the invisible links that maintains universal connections. Her methodology, then, consists of a play between the created world and her own subjectivity by a process that is intuitive and spontaneous.
www.ceciliaferraro.com www.facebook.com/ceciferraroart
Cecilia Ferraro joined Society6 on January 13, 2015.