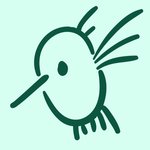 Cecilia M Creations
Graduated with a degree in Illustration in spring 2014. I love to draw animals and fantasy! I'm a huge nerd and love a lot of different shows. I am hugely into space and astrology! I'm always open for commission work so feel free to email me! Etsy: https://www.etsy.com/shop/CeciliaMCreations?ref=shop_sugg Tumblr: https://www.tumblr.com/blog/ceciliamcreations Facebook: https://www.facebook.com/CeciliaMCreations?ref=bookmarks Cecilia M Creations joined Society6 on January 9, 2015
More
Graduated with a degree in Illustration in spring 2014. I love to draw animals and fantasy! I'm a huge nerd and love a lot of different shows.
I am hugely into space and astrology!
I'm always open for commission work so feel free to email me!
Etsy: https://www.etsy.com/shop/CeciliaMCreations?ref=shop_sugg Tumblr: https://www.tumblr.com/blog/ceciliamcreations Facebook: https://www.facebook.com/CeciliaMCreations?ref=bookmarks
Cecilia M Creations joined Society6 on January 9, 2015.