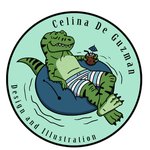 CelinaDeGuzman
Celina De Guzman is an illustrator living and working in La Palma, CA. She lives with her husband, son and loyal puggle. Enjoys rainy days, great storytelling, and a good laugh. She enjoys drawing animals, portraits, and odd things. She has a website here: http://deguzmancelina.wix.com/portfolio CelinaDeGuzman joined Society6 on November 18, 2013
More
Celina De Guzman is an illustrator living and working in La Palma, CA. She lives with her husband, son and loyal puggle. Enjoys rainy days, great storytelling, and a good laugh. She enjoys drawing animals, portraits, and odd things.
She has a website here: http://deguzmancelina.wix.com/portfolio
CelinaDeGuzman joined Society6 on November 18, 2013.