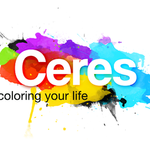 CeresFaction
Ceres Szneiberg has been working with arts for the past 15 years, always using and trying different techniques and kinds of art, getting involved with different projects, mainly in South America and Israel, where she could catch up the enthusiasm and the happy vivid colors of Brazil, her home country.
Art is powerful, and Ceres creates artwork that loves life and energizes the spirit. With her dazzling acrylic and oil paintings, the entire place will be wowed by their inspiring themes and unique character.
Ceres's work is affordable because it is her belief that everyone deserves to own an original piece of art.
Ordering Custom Paintings is AVAILABLE: Ceres knows that finding the right artwork can be intimidating. Through personal consulting services, she will help you choose the best artwork for your specific needs. Together, you can manage your budget, work out display details and configure the overall look.
Contact us now to learn more about her approved partnerships for your business, With many types of painting to choose from and custom services to create your perfect artwork, you will truly color your marketplace or space with the high-spirited and passionate art.
Ceres Coloring your Life!
Read more
CeresFaction's Store
Filter