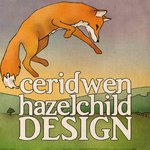 Ceridwen Hazelchild Design
At Ceridwen Hazelchild Design we believe that by expressing creativity and encouraging eco-friendly behaviour, we can make our world more beautiful.
Specialising in designing and making illustrated textile accessories, Ceridwen aims to create beautiful products which promote environmentally friendly values. She works from a little studio in the heart of the Cotswolds, hoping to bring beauty and colour to everyday life with a charming range of tote bags, accessories and gifts. Ceridwen Hazelchild Design believes in the importance of caring for our planet, and offers a wide range of delightfully designed reusable totes to help customers live an eco-friendly and ethical lifestyle. Illustrations draw inspiration from nature, tradition and everyday objects, and use a mixture of natural hues and textures alongside bright colours to create a distinctive and quirky style.
Read more
Ceridwen Hazelchild Design's Store
120 results
Filter