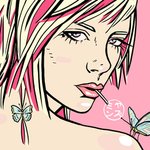 Cerise Lux
Graphic artist from London, based in Tokyo. Loves fantasy imagery, the rain and eating cake while playing survival horror. What would you like to see more of? I'm open to ideas. The geekier or weirder, the better! Follow me on: enimsay.net twitter.com/cerise_lux instagram.com/5ereen Cerise Lux joined Society6 on February 25, 2014
More
Graphic artist from London, based in Tokyo. Loves fantasy imagery, the rain and eating cake while playing survival horror.
What would you like to see more of? I'm open to ideas. The geekier or weirder, the better!
Follow me on: enimsay.net twitter.com/cerise_lux instagram.com/5ereen
Cerise Lux joined Society6 on February 25, 2014.